Previous Image | Next Image | ROTK CED Page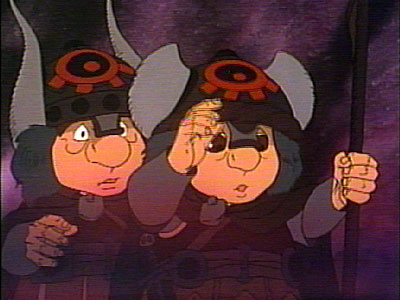 Sam and Frodo as Orcs
Sam and Frodo dress as orcs to disguise themselves in the land of Mordor (Side 1, 40:09).
"He opened the bundle. Frodo looked in disgust at the contents, but there was
nothing for it: he had to put the things on, or go naked. There were long hairy
breeches of some unclean beast-fell, and a tunic of dirty leather. He drew them
on. Over the tunic went a coat of stout ring-mail, short for a full-sized orc,
too long for Frodo and heavy. About it he clasped a belt, at which there hung a
short sheath holding a broad-bladed stabbing-sword. Sam had brought several
orc-helmets. One of them fitted Frodo well enough, a black cap with iron rim,
and iron hoops covered with leather upon which the evil Eye was painted in red
above the beaklike nose-guard."
- LOTR Book VI: The Tower of Cirith Ungol
Previous Image | Next Image | ROTK CED Page | CED Magic Home