Previous Image | Next Image | The Hobbit CED Page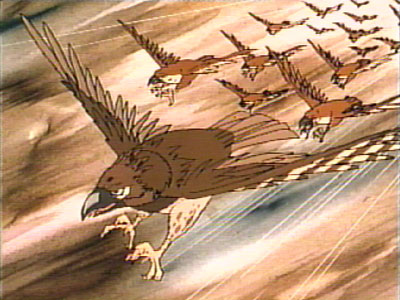 The Great Eagles Join the Battle
Eagles join on the side of the three armies against the goblins, hence a battle of five armies (Side 2, 37:24).
"The clouds were torn by the wind, and a red sunset slashed in the West. Seeing the
sudden gleam in the gloom Bilbo looked round. He gave a great cry: he had seen a sight that
made his heart leap, dark shapes small yet majestic against the distant glow.
'The Eagles! The Eagles!' he shouted. 'The Eagles are coming!'"
- The Hobbit: The Clouds Burst
A flipped version of this scene is on "The Return of the King" CED
Previous Image | Next Image | The Hobbit CED Page | CED Magic Home