Previous Image | Next Image | The Hobbit CED Page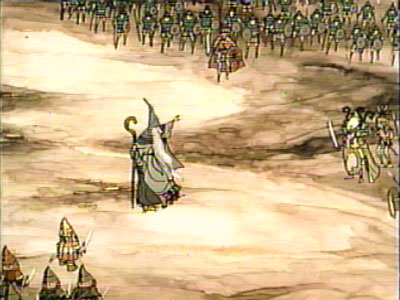 Gandalf Between the Three Armies
Wizard Gandalf stands between the armies of Lake-men, Wood-elves, and Dwarves (Side 2, 35:32).
"'Halt!' cried Gandalf, who appeared suddenly, and stood alone, with arms uplifted,
between the advancing dwarves and the ranks awaiting them. 'Halt!' he called in a voice like
thunder, and his staff blazed forth with a flash like the lightning. 'Dread has come upon
you all! Alas! it has come more swiftly than I guessed. The Goblins are upon you! Bolg of the
North is coming. O Dain! whose father you slew in Moria. Behold! the bats are above his army
like a sea of locusts. They ride upon wolves and Wargs are in their train!'"
- The Hobbit: The Clouds Burst
Previous Image | Next Image | The Hobbit CED Page | CED Magic Home