Previous Image | Next Image | The Hobbit CED Page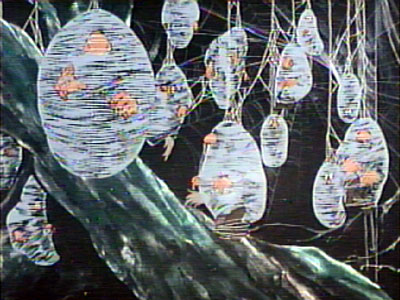 Dwarves Imprisoned in Spider Webs
The 13 dwarves imprisoned in spider web and awaiting rescue by Bilbo (Side 2, 08:49).
"With that one of the fat spiders ran along a rope, till it came to a dozen bundles
hanging in a row from a high branch. Bilbo was horrified, now that he noticed them for
the first time dangling in the shadows, to see a dwarvish foot sticking out of the bottoms
of some of the bundles, or here and there the tip of a nose, or a bit of beard or of a hood."
- The Hobbit: Flies and Spiders
Previous Image | Next Image | The Hobbit CED Page | CED Magic Home