Previous Image | Next Image | The Hobbit CED Page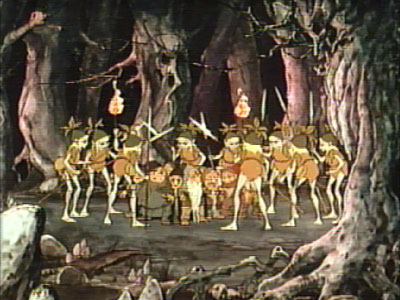 Wood-Elves Capture the Dwarves
The dwarves are captured by the Wood-elves dwelling in Mirkwood (Side 2, 11:21).
"Such day as there ever was in the forest was fading once more into the blackness of night,
when suddenly out sprang the light of many torches all round them, like hundreds of red stars.
Out leaped Wood-elves with their bows and spears and called the dwarves to halt."
- The Hobbit: Barrels Out of Bond
Previous Image | Next Image | The Hobbit CED Page | CED Magic Home