Previous Image | Next Image | The Hobbit CED Page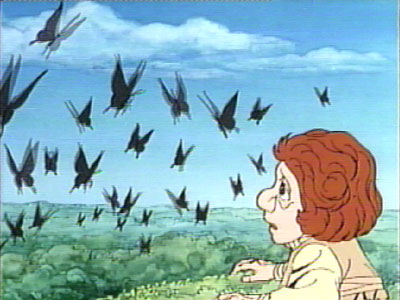 Bilbo Above Mirkwood for a View
Many Black Emperor butterflies are fluttering about (Side 2, 07:23).
"When he could, he saw all round him a sea of dark green, ruffled here and there by the
breeze; and there were everywhere hundreds of butterflies. I expect they were a kind of
'purple emperor,' a buttefly that loves the tops of oak-woods, but these were not purple
at all, they were a dark dark velvety black without any markings to be seen."
- The Hobbit: Flies and Spiders
Previous Image | Next Image | The Hobbit CED Page | CED Magic Home