Previous Image | Next Image | The Hobbit CED Page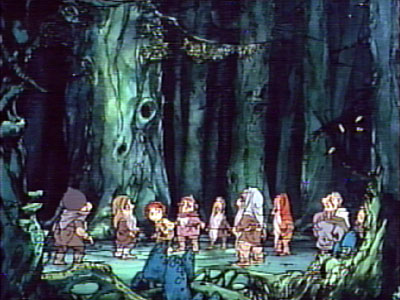 Deep Inside Mirkwood Forest
Bilbo prepares to climb above the impenetrable gloom to get a view. (Side 2, 06:49).
"'Is there no end to this accursed forest?' said Thorin. 'Somebody must
climb a tree and see if he can get his head above the roof and have a look around.
The only way is to choose the tallest tree that overhangs the path.'"
- The Hobbit: Flies and Spiders
Previous Image | Next Image | The Hobbit CED Page | CED Magic Home