Previous Image | Next Image | The Hobbit CED Page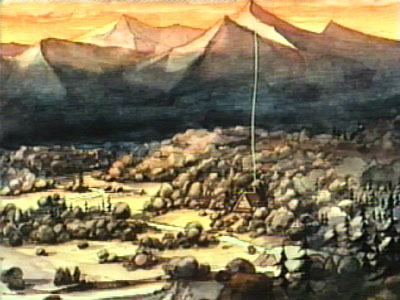 Rivendell
Elrond's Last Homely House in the valley of Rivendell. Beyond lie the Misty Mountains (Side 1, 17:48).
"'Here it is at last!' he called, and the others gathered round him and looked over the edge.
They saw a valley far below. They could hear the voice of hurrying water in a rocky bed at the bottom;
the scent of trees was in the air; and there was a light on the valley-side across the water"
- The Hobbit: A Short Rest
Previous Image | Next Image | The Hobbit CED Page | CED Magic Home