Previous Image | Next Image | The Hobbit CED Page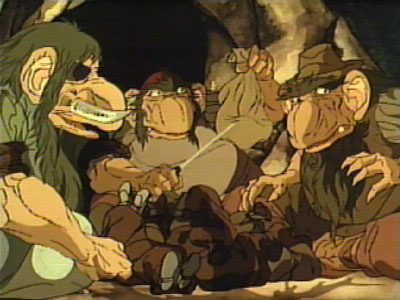 The Three Trolls
The three trolls with their sacked dwarf prisoners (Side 1, 13:51).
"William never spoke for he stood turned to stone as he stooped;
and Bert and Tom were stuck like rocks as they looked at him.
And there they stand to this day, all alone, unless the birds perch on them;
for trolls, as you probably know, must be underground before dawn,
or they go back to the stuff of the mountains they are made of,
and never move again. This is what had happened to Bert and Tom and William."
- The Hobbit: Roast Mutton
Previous Image | Next Image | The Hobbit CED Page | CED Magic Home