Previous Image | Next Image | Narnia CED Page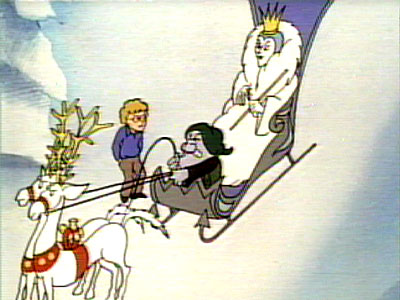 The White Witch on Her Sledge
The White Witch orders the dwarf to stop the sledge upon seeing Edmund..
"On the sledge, driving the reindeer, sat a fat dwarf who would have been
about three feet high if he had been standing. He was dressed in polar bear's
fur and on his head he wore a red hood with a long gold tassel hanging down from
its point; his huge beard covered his knees and served him instead of a rug.
But behind him, on a much higher seat in the middle of the sledge sat a very
different person - a great lady, taller than any woman that Edmund had ever seen.
She also was covered in white fur up to her throat and held a long straight
golden wand in her right hand and wore a golden crown on her head. Her face was
white - not merely pale, but white like snow or paper or icing-sugar, except
for her very red mouth. It was a beautiful face in other respects, but proud
and cold and stern."
- The Lion, the Witch and the Wardrobe: Edmund and the Wardrobe
Previous Image | Next Image | Narnia CED Page | CED Magic Home