Previous Image | Next Image | Narnia CED Page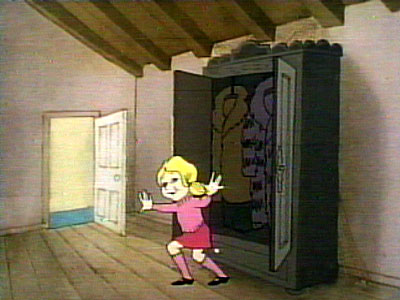 Lucy Exiting the Wardrobe
Lucy returns to the professor's house through the wardrobe.
"... all at once she found herself jumping out of the wardrobe into the same
empty room from which the whole adventure had started. She shut the wardrobe
door tightly behind her and looked around, panting for breath. It was still
raining and she could hear the voices of the others in the passage.
'I'm here,' she shouted. 'I'm here. I've come back, I'm all right.'"
- The Lion, the Witch and the Wardrobe: What Lucy Found There
Previous Image | Next Image | Narnia CED Page | CED Magic Home