Previous Image | Next Image | Who's Who Home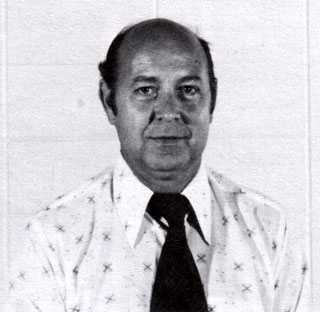 Leslie A. Torrington
Leslie Torrington received the Higher National Certificate in Mechanical Engineering from the South-East Essex College of Technology in London, England in 1963. He joined RCA in Indianapolis in 1967 as a Design Engineer responsible for record-changer design. He was instrumental in the design of the industry's first all-plastic motorboard used in a fully automatic record player. In 1970, he joined the Advanced Development group in Indianapolis and worked on a cassette-type videotape recorder (MagTape) until 1973 when he joined the VideoDisc project. Mr. Torrington has been granted 15 U.S. patents for his work at RCA.
- RCA 1982 Company Biography

Leslie A. Torrington, member Engineering Staff, is the recipient of the September 1981 SelectaVision VideoDisc Technical Excellence Award by virtue of his outstanding creativity, resourcefulness, and proficiency in designing a VideoDisc Caddy System which has been mass produced.

The award was presented at a luncheon on November 3, 1981, by Dr. Jay J. Brandinger, Division Vice-President and General Manager of SelectaVision VideoDisc Operations. Those attending included Mr. Torrington's management, members of Dr. Brandinger's staff, and members of the Technical Excellence Committee.

The VideoDisc Caddy system serves as a transport mechanism for loading the disc into and out of the VideoDisc player, and it serves as a protection system for the ultra-sensitive disc. The caddy system prevents damage to the microscopic grooves of the VideoDisc by keeping dirt out and by providing protection from scratches, fingerprints, and abrasion.

Although the caddy system was originally designed at the RCA David Sarnoff Research Center, Mr. Torrington has made a unique contribution by designing a caddy system which has been mass produced. The system of caddy, lip seal, spine, and label has performed effectively even when the external components have changed adversely. Les has been granted 16 U.S. patents since being with RCA; many of the patents pertain to the VideoDisc player and Caddy System.
- Jan/Feb 1982 RCA Engineer

See Featured CED Patent No. 4227699 issued to Leslie Torrington.

See Les Torrington on slide 495 from Memories of VideoDisc.

Search for patents issued to Leslie Albert Torrington.

If you have some additional information to supply on Les Torrington, feel free to submit the form below, so your comments can be added to this page.
---
Send your comments in email via the Contact page
---
Previous Image | Next Image | Who's Who | Memories | CED Magic Home