Previous Image | Next Image | Who's Who Home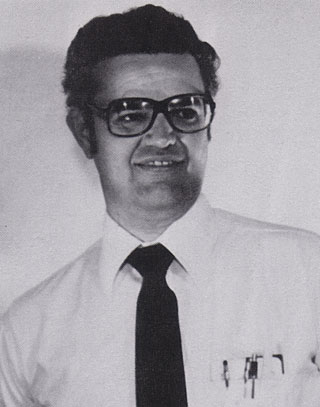 Byron K. Taylor
B. K. Taylor is Member Engineering Staff, "SelectaVision" VideoDisc Operations, Indianapolis, where he is responsible for the stylus cartridge design dynamics within the Stylus Cartridge Design group. He joined RCA's New Products Engineering area in Indianapolis in 1969. After first aiding design on the RCA holotape laser player and the Indianapolis recording facility, he has been continuously involved with player design of the VideoDisc system. He currently holds six U.S. patents, all relating to VideoDisc.
- RCA 1981 Company Biography

Byron K. Taylor, Member Engineering Staff, received the "SelectaVision" VideoDisc Technical Excellence Award May 23. 1983, by virtue of his outstanding creativity, resourcefulness, and proficiency in the development and design of the VDC-5 stylus cartridge

Byron was challenged to design a cartridge that would be rugged, tolerant of player/arm misalignment, require no adjustments, contain a portion of the time-base-correction transducer, use cost effective parts, and sacrifice no performance. Byron met the challenge and, in addition, increased the skipping range and improved the time-base correction.

Byron used developments at RCA Laboratories and many inputs and ideas from Cartridge Manufacturing Engineering to meet the cost and performance goals of the VDC-5 program. This simplification of three critical parts also offers future opportunity for competitive sourcing and assembly automation. The design of the VDC-5 cartridge brings to eleven the number of patents held by Byron and vividly demonstrates his significant and creative contributions to VideoDisc developments.
- RCA 1983 Company Announcement

Search for patents issued to Byron Kent Taylor.

If you have some additional information to supply on Byron Taylor, feel free to submit the form below, so your comments can be added to this page.
---
Send your comments in email via the Contact page
---
Previous Image | Next Image | Who's Who | Memories | CED Magic Home