Previous Image | Next Image | Who's Who Home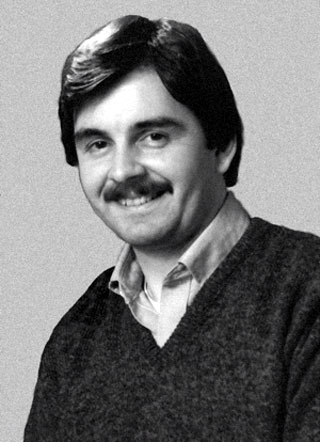 Stephen MacArthur
Stephen MacArthur Join RCA in 1977 as a Member of the Technical Engineering Staff - Automated Systems Division at Burlington MA. In 1980, he transferred to the ""SelectaVision" VideoDisc Operations at Rockville Road, Indianapolis. He was responsible for the 5 button remote design for the SGT250 player, which included the IR preamp and remote decoder chip design.

In 1982, Stephen MacArthur was assigned as the design coordinator for the SJT400 random access player, his responsibilities included definition of the players features, development of the remote control unit, developing the algorithms and microcode for the onboard microcomputer, and coordinating design activities for the on-screen display chip.

In 1984, Stephen MacArthur transferred to the RCA government division in Burlington, Massachusetts where he did R&D work for the US Navy.

In 1987, Stephen MacArthur joined Digital Equipment Corporation in Maynard Massachusetts as a Principal Hardware Designer for the Networks Division.

In 1998, Stephen MacArthur joined EMC Corporation in Hopkinton, Massachusetts. He is one of the Principle Designers for the DMX Symmetrix storage platform fabric architecture.

Mr. MacArthur received his BSEE from Northeastern University in 1975 and has been a member of IEEE for over 30 years.
- 2006 Biography

Stephen may be contacted at smacarth@charter.net

Search for patents issued to Stephen MacArthur.

If you have some additional information to supply on Steve MacArthur, feel free to submit the form below, so your comments can be added to this page.
---
Send your comments in email via the Contact page
---
Previous Image | Next Image | Who's Who | Memories | CED Magic Home