Previous Image | Next Image | Who's Who Home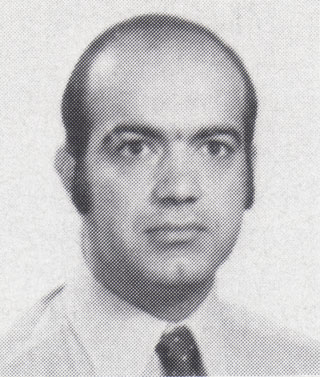 B. T. Khuri-Yakub
---
B. T. Khuri-Yakub was born in Beirut, Lebanon in 1948. He received the B. E. from the American University of Beirut in 1970, the M.S. from Dartmouth College in 1972, and the Ph.D. from Stanford University in 1975, all in Electrical Engineering. Since receiving his Ph.D. he has been at the E. L. Ginzton Lab of Stanford University where he is presently a Senior Research Associate. In 1980 he co-founded KYS, Inc., a consulting company dealing with custom design of specialized acoustic transducers.
- RCA 1982 Company Biography

Butrus (Pierre) T. Khuri-Yakub was born in Beirut, Lebanon. He received the B.S. degree in 1970 from the American University of Beirut, the M.S. degree in 1972 from Dartmouth College, and the Ph.D. degree in 1975 from Stanford University, all in electrical engineering. He joined the research staff at the E. L. Ginzton Laboratory of Stanford University in 1976 as a research associate. He was promoted to a Senior Research Associate in 1978, and to a Professor of Electrical Engineering (Research) in 1982. He has served on many university committees such as graduate admissions, undergraduate academic council of the school of engineering, and others.

Prof. Khuri-Yakub has been teaching both at the graduate and undergraduate levels for over 15 years, and his current research interests include in-situ acoustic sensors (temperature, film thickness, resist cure, ...) for monitoring and control of integrated circuits manufacturing processes, micromachining silicon to make acoustic materials and devices such as air borne and water immersion ultrasonic transducers and arrays, and fluid ejectors, and in the field of ultrasonic nondestructive evaluation and acoustic imaging and microscopy.

Professor Khuri-Yakub is a fellow of the IEEE, a senior member of the Acoustical Society of America, and a member of Tau Beta Pi. He is associate editor of Research in Nondestructive Evaluation, a Journal of the American Society for Nondestructive Testing; and a member of the AdCom of the IEEE group on Ultrasonics Ferroelectrics and Frequency Control (1/1/94 - 1/1/97).

Professor Khuri-Yakub has authored over 300 publications and has been principal inventor or coinventor on over 50 patents. He received the Stanford University School of Engineering Distinguished Advisor Award, June 1987, and the Medal of the City of Bordeaux for contributions to NDE, 1983.
- Stanford University 2000 Biography

In 2002, B. T. Khuri-Yakub was head of the Khuri-Yakub Ultrasonics Group at Stanford University.

Search for patents issued to Butrus T. Khuri-Yakub.

If you have some additional information to supply on Pierre Khuri-Yakub, feel free to submit the form below, so your comments can be added to this page.
---
Send your comments in email via the Contact page
---
Previous Image | Next Image | Who's Who | Memories | CED Magic Home