Previous Image | Next Image | Memories Home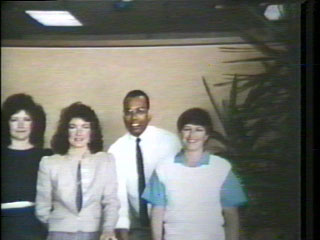 The Employee Relations Staff
From left to right, Carol Edwards-McDaniel, Barb Mannen, Steve Wadlington, and Kris Spohn.

Another picture of Carol Edwards-McDaniel appears on Slide 230.

Another picture of Barb Mannen-Burcope appears on Slide 142.

Another picture of nurse Kris Spohn-Morgan appears on Slide 139.

See Steve Wadlington listed in the credits for "Memories of VideoDisc."

If you know something about who or what is shown in the above image, feel free to submit the form below, so your caption and/or comments can be added to this page.
---
Send your comments in email via the Contact page
---
Previous Image | Next Image | The Way We Were | Memories | CED Magic Home