Previous Image | Next Image | Memories Home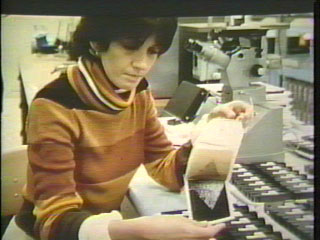 Microscopic Inspection of the Diamond Stylus
RCA's new "SelectaVision" VideoDisc player now under development employs a diamond stylus which tracks a recorded signal that moves at a 450 rpm turntable speed. Microscopic photography is used to check samples of the diamonds used in the cartridges being assembled at RCA's Rockville Road plant in Indianapolis. RCA plans a nation-wide product introduction in the first quarter of 1981.
- December 6, 1979 press release that accompanied the above photo.

If you know something about who or what is shown in the above image, feel free to submit the form below, so your caption and/or comments can be added to this page.
---
Send your comments in email via the Contact page
---
Previous Image | Next Image | The Way We Were | Memories | CED Magic Home