Previous Image | Next Image | Memories Home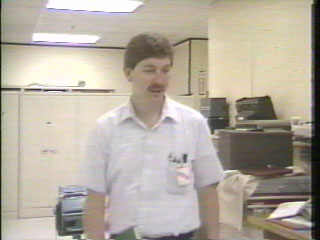 Ross Youngs, Eng. Tech. in Manf. Eng. Tech. Lab
Ross Youngs went on to engineering in the compact disc industry in 1986 and as an inventor and businessman in 1988. See www.univenture.com and www.unikeep.com.

At Univenture Ross made the Inc. 500 list for 5 years in a row and in 1998 was named national SBA Business Person of the Year. In Oct 2002 his newest invention (UniKeep) was named by Modern Plastics as the 2002 Excellence in Design Winner. UniKeep was introduced in 2001 and within 7 months was virtually available in every major office supply outlet nationwide including Staples, OfficeMax, Office Depot.

Currently (2002) Ross is creating a new technology (called Darkweld) that dramatically improves the speed and quality of assembly of paper sheets and plastic films.
- Ross Youngs

If you know something about who or what is shown in the above image, feel free to submit the form below, so your caption and/or comments can be added to this page.
---
Send your comments in email via the Contact page
---
Previous Image | Next Image | The Way We Were | Memories | CED Magic Home