Previous Image | Next Image | Memories Home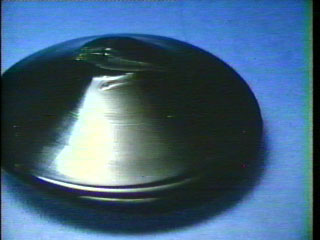 VideoDisc Shot
The VideoDisc shot which is compression molded by the stamper to form the disc.

We had an off-color name for these shots at the plant. They were called "Nipper Doos."
- anonymous

Usually called a "puck" for its resemblance to a hocky puck- they were about the same diamater, but tapered up and down as shown. I've still got one I use for a paperweight.
- Steve Godsey

If you know something about who or what is shown in the above image, feel free to submit the form below, so your caption and/or comments can be added to this page.
---
Send your comments in email via the Contact page
---
Previous Image | Next Image | The Way We Were | Memories | CED Magic Home