Previous Image | Next Image | Memories Home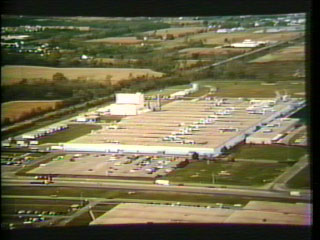 Aerial View of the Rockville Road Plant
A view of the VideoDisc pressing plant looking to the North across Rockville Road. The plant was up for sale by Summit Realty in the 1999-2001 time frame. The smaller building shaped like a long rectangle on the right edge of the picture housed the Rockville Road administrative offices.

I visited the site on December 18, 2003. The former administrative building is now used by the Marion County Sheriffs Department, while the bulk of the former production facility is owned by General Cable Corporation, apparently used as a production/distribution operation. A Quaker Oats/Gatorade distributor apparently uses some space in the former production facility as well. I looked quite closely, but apparently, no reference to the building's past remains at all.
- Greg Donahoe

If you know something about who or what is shown in the above image, feel free to submit the form below, so your caption and/or comments can be added to this page.
---
Send your comments in email via the Contact page
---
Previous Image | Next Image | Rockville Road | Memories | CED Magic Home