Previous Image | Next Image | ROTK CED Page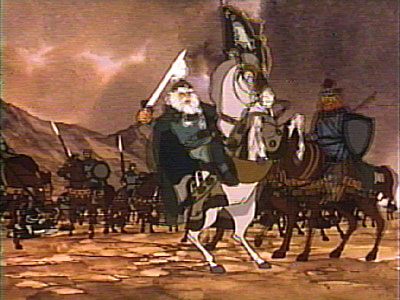 Theoden and Snowmane Fall
Theoden triumphs until he is thrown from Snowmane and perishes (Side 2, 22:30).
"'To me! to me!' cried Theoden. 'Up Eorlingas! Fear no darkness!'
But Snowmane wild with terror stood up on high, fighting with the air,
and then with a great scream he crashed upon his side: a black dart had pierced him.
The king fell beneath him."
- LOTR Book V: The Battle of the Pelennor Fields
The video, where a frightened Snowmane throws Theoden and runs off, differs from the book
Visit the Pelennor Fields page at TheOneRing.net
Previous Image | Next Image | ROTK CED Page | CED Magic Home