Previous Image | Next Image | ROTK CED Page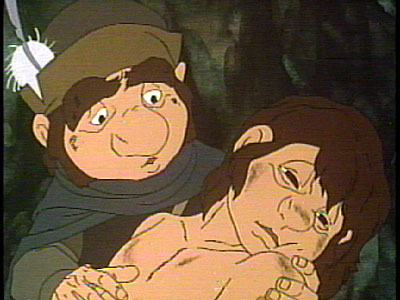 Sam Rescues Frodo
Sam rescues the beaten Frodo from the prison tower of Cirith Ungol (Side 1, 35:05).
"He was naked, lying as if in a swoon on a heap of filthy rags: his arm was
flung up, shielding his head, and across his side there ran an ugly whip-weal.
'Frodo! Mr. Frodo, my dear!' cried Sam, tears almost blinding him.
'It's Sam, I've come!' He half lifted his master and hugged him to his breast.
Frodo opened his eyes.
'Am I still dreaming?' he muttered. 'But the other dreams were horrible.'
'You're not dreaming at all, Master,' said Sam. 'It's real. It's me. I've come.'"
- LOTR Book VI: The Tower of Cirith Ungol
Previous Image | Next Image | ROTK CED Page | CED Magic Home