Previous Image | Next Image | ROTK CED Page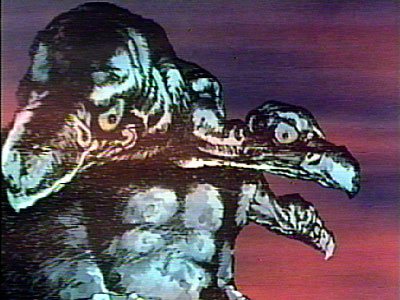 Three-Headed Watcher at Cirith Ungol
One of the Two Watchers at the entrance to the Tower of Cirith Ungol in Mordor (Side 1, 28:50).
"They were like great figures seated upon thrones. Each had three joined bodies,
and three heads facing outward, and inward, and across the gateway. The heads
had vulture-faces, and on their great knees were laid clawlike hands. They
seemed to be carved out of huge blocks of stone, immovable, and yet they were
aware: some dreadful spirit of evil vigilance abode in them. They knew an enemy.
Visible or invisible none could pass unheeded. They would forbid his entry, or
his escape."
- LOTR Book VI: The Tower of Cirith Ungol
Previous Image | Next Image | ROTK CED Page | CED Magic Home