Previous Image | Next Image | LOTR CED Page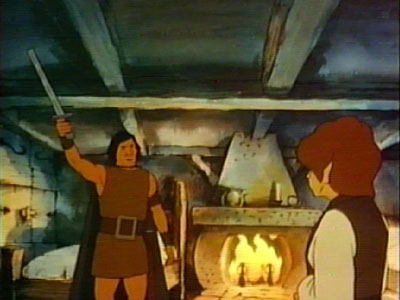 Aragorn Pledges His Aid
Strider wields his sword Narsil and identifies himself as Aragorn, son of Arathorn (Side 1, 27:54).
"He stood up and seemed suddenly to grow taller. In his eyes
gleamed a light, keen and commanding. Throwing back his cloak,
he laid his hand on the hilt of a sword that had hung concealed
by his side. They did not dare to move. Sam sat wide-mouthed
staring at him dumbly.
'But I am the real Strider, fortunately,' he said,
looking down at them with his face softened by a sudden smile.
'I am Aragorn son of Arathorn;
and if by life or death I can save you, I will.'"
- LOTR Book I: Strider
Previous Image | Next Image | LOTR CED Page | CED Magic Home