Previous Image | Next Image | The Hobbit CED Page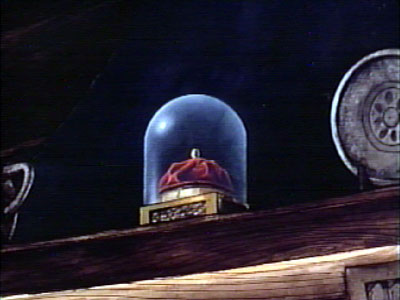 The Ring in a Glass Case
Ring displayed on Bilbo's mantle (contrary to the book) at the end of the CED (Side 2, 41:32).
"His sword he hung over the mantlepiece. His coat of mail was arranged on a stand
in the hall (until he lent it to a Museum). His gold and silver was largely spent in presents,
both useful and extravagant - which to a certain extent accounts for the affection of his
nephews and his nieces. His magic ring he kept a great secret, for he chiefly used it when
unpleasant callers came".
- The Hobbit: The Last Stage
Previous Image | Next Image | The Hobbit CED Page | CED Magic Home