Previous Image | Next Image | The Hobbit CED Page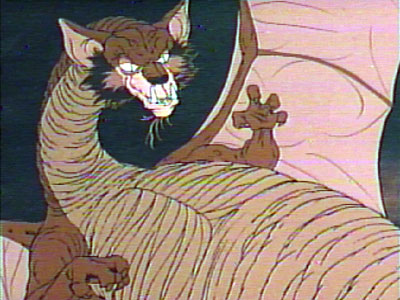 Smaug Displays His Armored Chest and Belly
Smaug rolls over to display his seemingly inpregnable chest and belly (Side 2, 24:56).
"The dragon rolled over. 'Look!' he said, 'What do you say to that?'
'Dazzlingly marvellous! Perfect! Flawless! Staggering!' exclaimed Bilbo aloud,
but what he thought inside was: 'Old fool! Why there ia a large patch in the
hollow of his left breast as bare as a snail out of its shell!'"
- The Hobbit: Inside Information
Previous Image | Next Image | The Hobbit CED Page | CED Magic Home