Previous Image | Next Image | The Hobbit CED Page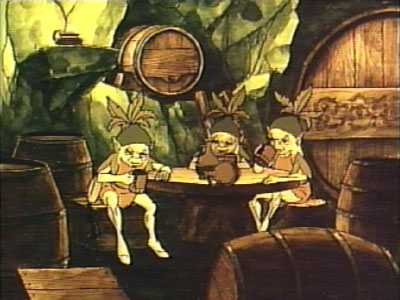 Wood Elf Guards
An invisible Bilbo contemplates escaping with the dwarves by floating in the empty elf barrels (Side 2, 13:05).
"When the barrels were empty the elves cast them through the trapdoors, opened the water-gate,
and out the barrels floated on the stream, bobbing along, until they were carried by the current
to a place far down the river where the bank jutted out, near to the very eastern edge of Mirkwood.
There they were collected and tied together and floated to Lake-town, which stood close to the point
where the Forest River flowed into the Long Lake."
- The Hobbit: Barrels Out of Bond
Previous Image | Next Image | The Hobbit CED Page | CED Magic Home