Last Image | Next Image | Robin Hood CED Page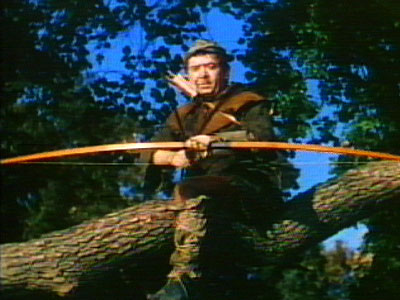 Herbert Mundin - Much the Miller's Son
Much prepares to shoot one of the King's Deer (Side 1, 04:21).
"You can beat and starve us Saxons now, but when King Richard escapes he'll
take you by the scruff of the neck and throw you into the sea!"
- to Sir Guy just prior to Much's rescue by Robin Hood (Side 1, 05:23).
---
Herbert Mundin died in a road accident shortly after this movie was released.
Last Image | Next Image | Robin Hood CED Page | CED Magic Home