RCA SFT100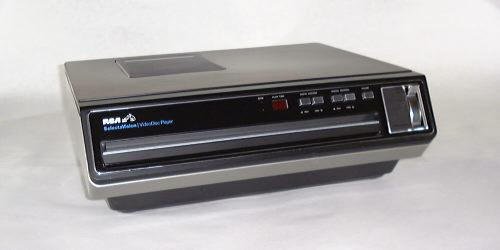 Notes:
Official designation is SFT100W, but suffix was omitted from owner's and service manuals.
The first production player to be manufactured and marketed.
Undocumented Page Mode entered by simultaneously depressing both visual search buttons.
Year Introduced: 1981
OEM Equivalent: N/A
Sound: Monaural
Dual Audio: No
Outputs: RF
Remote Control: No
Visual Search: 16xF/R
Blanked Search: 120xF/R
Pause: Yes
Time Display: Digital
Side Display: Yes
Page Mode: Yes
Page Advance: No
Repeat Mode: No
Screen Display: No
Turntable: Belt Driven
Turntable Timing: Line Frequency
Stylus Sweep: Unload
Motorized Load: No
Video Standard: NTSC
Power Source: 120V, 60Hz
Power Consumption: 35W
Dimensions: 17.0" x 5.7" x 15.5"
Weight: 20 lbs.