Previous Image | Next Image | Who's Who Home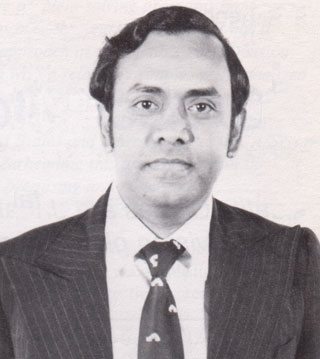 Devendra Mishra
Devendra Mishra served "SelectaVision" VideoDisc Operations during 1981 - 1982 in different capacities of Manager of PTC Operations, Manager of Caddy Manufacturing, and Manager of VideoDisc Engineering. Previously, he had been the Chief Engineer of RCA Records. Having receives a B.S. in Mechanical Engineering from the Indian Institute of Technology, he proceeded to obtain graduate degrees in Production Engineering, Industrial Engineering, and Business Administration.
- RCA 1982 Company Biography

Devendra Mishra, over a span of thirty years, has built, operated and transformed world-class multi- media manufacturing and distribution businesses world-wide. An engineering graduate, Devendra also holds master's degrees in Operations Research (Purdue University) and Business Administration (Butler University).

Prior to 1997 Devendra has served as President and CEO of Multifoods' billion dollar specialty distribution subsidiary; President of Technicolor's Worldwide New Media & Distribution; President and COO of LIVE Entertainment, a diversified supplier, wholesaler and retailer of home video and music; Managing Director of VCL-Carolco, a leading home video company in Germany that he helped acquire; and, Vice President of the $900 million world-wide manufacturing and distribution operations of RCA-Ariola.

Since 1997 Devendra is engaged in providing management consulting services to the entertainment, media, Inter-Net and distribution industries world-wide.

Devendra is a contributing editor of two industrial and production engineering handbooks. He has published more than forty papers on information-driven distribution, total quality management and manufacturing.
- 2002 MMS India Biography

In 2002, Devendra Mishra was committee chairman and multi-media presenter at the IIT Golden Jubilee Celebration.

If you have some additional information to supply on Devendra Mishra, feel free to submit the form below, so your comments can be added to this page.
---
Send your comments in email via the Contact page
---
Previous Image | Next Image | Who's Who | Memories | CED Magic Home