Previous Image | Next Image | ROTK CED Page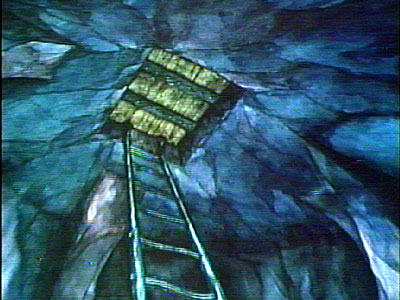 Secret Trap Door to Frodo
The secret trap door at the top of the Tower of Cirith Ungol above which Frodo is held (Side 1, 34:21).
"The hinges creaked again, and Sam, now peering over the corner of the
passage-threshold, saw a flicker of light in an open doorway, and the dim shape
of an orc coming out. He seemed to be carrying a ladder. Suddenly the answer
dawned on Sam: the topmost chamber was reached by a trap-door in the roof of the
passage. Snaga thrust the ladder upwards, steadied it, and then clambered out of
sight. Sam heard a bolt drawn back. Then he heard the hideous voice speaking
again."
- LOTR Book VI: The Tower of Cirith Ungol
Previous Image | Next Image | ROTK CED Page | CED Magic Home